Do you need any help?
Prefer to speak with a human to filling out a form? Call and we will connect you with a team member who can help
We have 30 years experience
Dalco Nitrogen Gas Systems was formed in 1993 by its current Managing Director John Daly. 
The company has grown over that time and developed into a European leader in Nitrogen and Oxygen Gas Generation Systems.
World wide installations
Dalco Nitrogen System's head office is based in 
Co. Meath, Ireland we also have an office in Northern Ireland and a representative in the USA.
With Nitrogen and Oxygen Gas Generation systems installed worldwide we are increasing our export sales department and we are now available to build and install systems in Eastern European, Middle Eastern and American markets.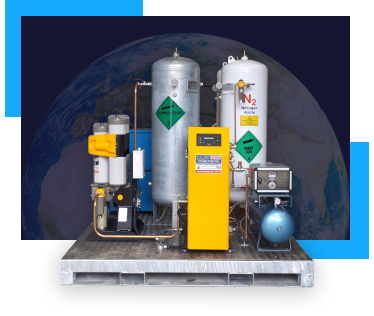 We're Qualified
We are holders of an ISO 9002:2015 Quality Award. In compliance with the ISO structure, Dalco operates to strict quality procedures in every stage of the manufacturing and servicing process.
Dalco has a dedicated team of professional and friendly staff to guide you through the design, installation and servicing of your bespoke Nitrogen and oxygen Gas Generation system.

A dedicated solution for every application
We can offer variable purities to suit your application, down to 10ppm remaining oxygen or 99.999% nitrogen. Each application requires a different purity, so by selecting a purity with the maximum oxygen level permissible we can optimise the cost and energy savings while adhering to the required specifications.
By using a higher specification, we can ensure a safety margin for your process. The quality of gas is monitored consistently via the on-line live oxygen analyser built into the system. We also offer additional oxygen analysers for storage tanks.
In addition to this, as a total quality control system, we have fitted a Pharma grade FDA approved BIO X sterile gas filter on the system which gives the gas a guarantee of protection far beyond what comes from a bottle of gas
About Us – Company Overview